|

|

|

|


|

|

|

|


|

|

|

|

|


|

|

|

|

|


|

|

|

|


|

|

|

|


|

|

|

|

(Please note that the authors have contributed their comments but are not able to answer questions from readers unless they specifically say so below.)

Nick Sharratt
Draw and draw and draw. And if you see any competitions enter them — I do. Join an art group, that's useful.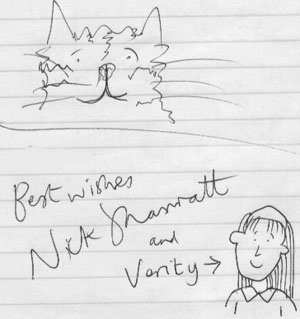 Ragnhild Scamell
Keep trying.
Keep writing.
I've written a lot of books about cats. Cats are my favourite animals. I have two siamese cats that climb curtains.
Make a round story, that starts at the beginning and then at the end goes back to the beginning in some way.

Miriam Moss
You only get good at something if you practice. Work hard and always have a laugh!


©2003-2006 Kids on the Net and the authors Last revised 17-May-2003
Kids on the Net