No competitions have been mentioned to us at the moment.
Previous Competitions
'SEVEN SORCERERS' WRITING COMPETITION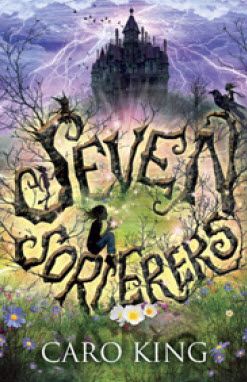 On a Wednesday morning Nin awakes to find her brother missing and worst of all, nobody, not even her mum, remembers who he is. The adventure to find her brother will take her away from her family and into the Drift, a world of magical and dreadful folk. We will meet Skerridge, the lovable rogue bogeyman who stole Nin's brother for the terrible Mr Strood and Jik, the Mudman created from the earth. Friendship and imagination abound in this delightfully magical tale.
COMPETITION DETAILS
Nin and Jonas are human children who enter the world of the Drift to find Nin's brother Toby. There they discover the terrible Mr Strood who steals children. But Mr Strood was once human too. He, like Nin and Jonas, found a way to cross into the Drift where he became an apothecary's assistant and then a terrible villain.
How did the person who became Mr Strood cross over from our world into the Drift? Where was he living, where did he work and was he just as evil as back then? How do you think he found the portal to access the Drift and what was it like for him?
Write in no more than 750 words the story of Mr Strood and how he came to discover the Drift for a chance to win some seriously good prizes. Five people will win signed copies of the book and the artwork and 1 lucky winner will have their story published in the paperback!
Terms and Conditions
The competition is open to anyone aged between 8 and 13 and resident in the UK. Only one submission is permitted per entrant. Entries must be printed out and sent to
SEVEN SORCERERS COMPETITION
Quercus Publishing
21 Bloomsbury Square
WC1A 2NS
Please include your age, a contact email address and phone number.
Closing date for receipt of entries is Friday 17 July 2009. The winning entry will be announced by September 2009.


HAVE TEA WITH YOUR FAVOURITE AUTHOR!
Ever fancied sitting down with your favourite author and finding out just what makes them tick? Well, this year at the Guardian Hay Festival you could be doing just that!

The National Library for the Blind (NLB) is teaming up with top authors in an exciting charity fundraising auction which will offer book lovers the chance to bid for an opportunity to have tea with their favourite author.
Jacqueline Wilson is the first author to offer her time for the event, which will help to raise vital funds for NLB. She said: "I'm delighted to be supporting the National Library for the Blind's fundraising auction. Hopefully the event will bring in lots of money for such a good cause - and I'll get the chance to have a lovely tea with the highest bidder!"
Every penny raised in the auction will go towards helping the National Library for the Blind to bring the magic of reading to the 2 million visually impaired people in the UK who can't read standard print.
With less than 5% of books published annually in the UK ever produced in Braille, audio or large print, there is a serious shortage of reading material available for visually impaired people - making the work that NLB does essential.
Claire Briscoe, Press and PR Officer for the National Library for the Blind said: "This is the second year we have teamed up with the Guardian Hay Festival and it's great to be working with them again. As we do not receive any regular government funding, NLB is completely dependent on fundraising in order to continue to provide our service to visually impaired people. We are hoping this newest venture will help us to be able to put even more titles into Braille for visually impaired people to read."
Visit www.nlb-online/hay to find out more and to be the first to find out when new authors confirm their availability.




©2003-2011 Kids on the Net and the authors Last revised 06-Feb-2011
Kids on the Net